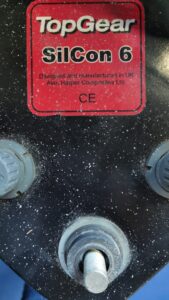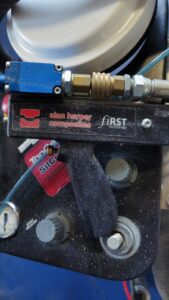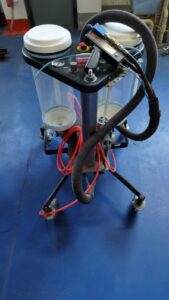 Resin application machine TopGear SilCon
Suitable for silicones with a 1:1 mixing ratio and a viscosity up to max 22,000 cps (22000 mPas).
The Top Gear Six 1: 1 is a very simple silicone dispenser that works on air pressure.  This dispenser comes with a 15 Kg A and a 15 Kg B transparent container.
Further features:
Precision, air driven rotary pumps 
Valveless and pulseless accurate metering
Powerful 4 HP safe air duplex drive Highest output.
Glass clear graduated tanks
Tank Low level audible alarm.
 Exceptionally low tank redundancy < 1.7kg 
Lightweight highly manoeuvrable 
4 m feed hose to spray head 
Light weight head 
Rotational fittings with quick release 
Soft, fatigue resistant finger tip start 
Spray pressure regulation with gauge 
Rapid & Infinitely variable output. 
Easy Head parking High flexibility covered umbilical. 
Emergency Stop Control. 
Exceptional low maintenance.